Asset Tracking Alert Feature
Learn more about our Asset Tracking Alert Feature and streamline your Asset Management.
Our Asset Tracking System offers the ability for users to stay updated with configurable alerts and notifications about all asset management needs. Asset Tracking notifications can be conveniently sent via email or text message and include a personalized message. This effective feature will increase the productivity of any team by keeping members informed about all asset management responsibilities and tasks.
Asset Tracking Alerts Feature Advantages
Multi-Recipient Capabilities
Send out configurable Asset Tracking alerts to multiple users and increase efficient communication.
Email and text alerts can be configured in order to effectively communicate and convey the required message.
Stay connected to multiple locations and streamline asset management workflow with emails and texts via phone.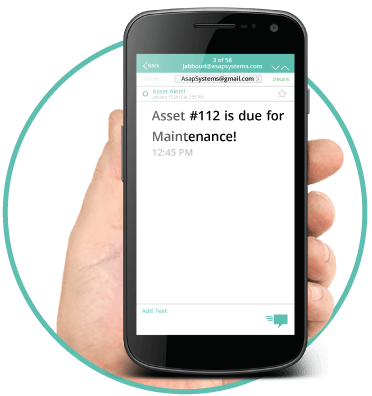 Set Asset Tracking Alerts for:
Warranty End Date

Maintenance Contract End Date

Schedule Maintenance

Assets Costs

Check Out Due Date

Received, Disposed or Moved Assets
Give our Asset Tracking System a try!