A Complete Army Asset Tracking System
ASAP Systems' complete, barcode-based Asset Tracking System for the Army is a secure system that tracks Army equipment, tools, IT assets, and vehicles deployed to Army personnel. Soldiers can tag each vehicle and its portable equipment with barcode labels to track their whereabouts, as well as maintenance schedules and depreciation.
Features of our Army Asset Tracking System
Check-In, Check-Out Army assets / Equipment
Record Army Asset Loss, damage, transfer or disposal
Schedule and perform asset maintenance on Army Assets
Generate unlimited Army Asset reports with the easy to use reporting wizard
Increase visibility and track Army Assets Worldwide
Configure Reports to replicate army forms/documents
All Army divisions can benefit from our Asset Tracking System
Our  Robust Barcode Based Asset Tracking System, allow all Army division to track accuratly its asset items worlwide. From Army Infantry to Special Forces, the army can track a wide range of equipment, tools, weapons, radios and more.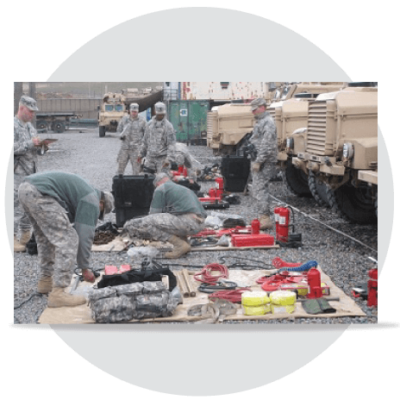 Increase accountability on Valuable Army Assets
Accountability is critical, when managing sensitive and expensive assets. Mistakes happen! With our advanced Asset Tracking Solution, supports the Check Out / Check in feature that allow Army bases can track, by whom the asset/equipment is checked out, when  its due to be checked back in.
Request Demonstration now and discover all the benefits our Asset Tracking System provides!