Asset Tracking Importing Feature
The most effective asset management system with configurable IT asset management, equipment checkout, and barcoding capabilities.
Easily Import Asset Data
Asset Tracking Data Import just got easier with our Data Import Feature! Save time and streamline workflow by eliminating the tedious individual entry of Assets.
Watch & Learn how The Asset Tracking Data Import works
Watch and learn how the Data Import Feature makes Asset Tracking quick and easy.
Asset Import Feature Flexibility
Our Asset Tracking Data Import Feature offers enhanced flexibility and the option to import asset data into various models.
This data import layout displays an easy concept on how to import Asset data by inputting the asset number, asset name, model number, manufacturer, model name, cost and current location.
This template educates how to import inventory data into the database using the location ID, location description, location type ID, address name, address, city, state, and more...
Import data by using columns such as model number, model description, additional description, category ID and cost.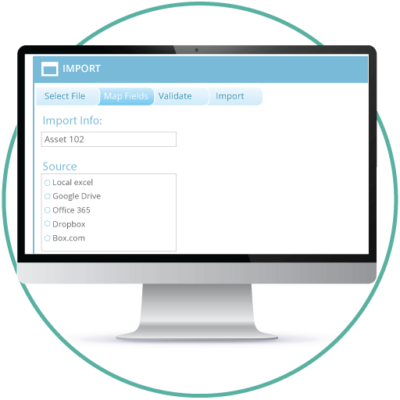 How Import Asset Data Works
ASAP Systems' Data Import Feature enables Asset Tracking System users to transfer Asset Data from programs like Excel or CSV anywhere, anytime using Google Drive, Office 365, Box.com, and Dropbox.
It's Time to Upgrade to a Complete Asset Tracking System