Inventory Alert Feature
Learn more about our Inventory Alert Feature and streamline your Inventory Management.
Automated Inventory Alerts
The Inventory System user can pre-configure a minimum and maximum quantity trigger for the total stock amount across all storage locations. Once a stock level hits the selected amount trigger, the system sends out a configurable alert via SMS text and/or email to notify all selected personnel. This Feature can avoid overstocking or understocking.
Inventory Alerts Feature Advantages
Multi-Recipient Capabilities
Send out configurable Inventory Tracking alerts to multiple users and increase effective communication.
Input email or text alert content, including a subject line, intro, and body straight from the system configuration dashboard and select recipients.
Stay connected to multiple warehouses or stockroom locations and streamline inventory management workflow with emails and texts via phone.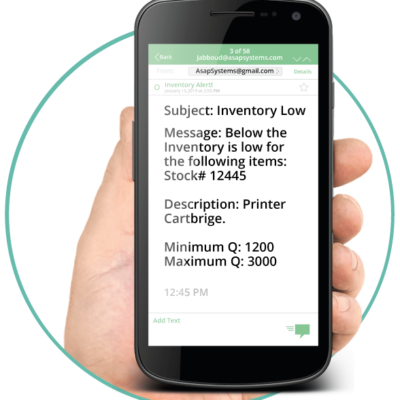 Set Inventory Alerts for:
Inventory Too High
Too Low Inventory
Inventory is Out
Expiration Dates
Received, Disposed or Moved Inventory
Inventory Alerts Capabilities - Watch & Learn
Watch the overview of how to set up Inventory and Barcode Tracking alert notifications, including the highly effective Inventory Low report.
It's Time to Upgrade to a Complete Inventory System