Inventory Reporting Feature
Configurable Inventory Reports is essential to any organization.
Comprehensive Inventory Reports
Configure Inventory Tracking Reports are only a few clicks away! Our  Barcode Tracking Inventory System offers the ability to generate configurable ready-to-use reports. Our Inventory Reports include detailed information including Inventory Sales Orders, Suggested Reorder, Low Stock Levels, and more.
View Inventory Reporting Capabilities
Catch a glimpse of our comprehensive inventory reporting feature for yourself!  Watch and learn how easy to use and flexibility our Inventory Reporting Feature really is!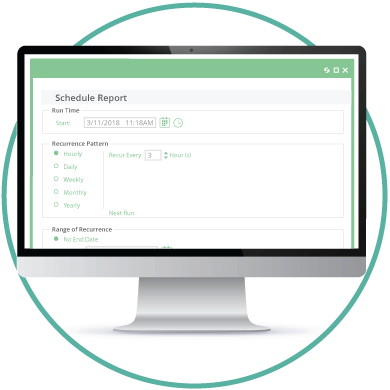 Automated Stock Inventory Reports
Scheduling configured stock inventory reports in minutes! Manage the schedule, type, recurrence parameters, and time so that inventory reports are always ready and waiting. 
Visual Inventory Reports
Inventory Tracking Reports made even easier to read! Our Inventory Reporting Feature offers the ability to transform numerical data into easy-to-read visual inventory reports.  Graphs and charts can be configured to better explain inventory trends, changes, and future direction.
Line Charts use a continuous line to connect the dots plotted according to the data on the graph. They are especially useful for identifying trends and comparing two or more variables.
Bar Graphs compare relationships between different data entries. Compared to a column chart, the X and Y inputs are inverted. A longer bar indicates a higher value.
Pie Charts compare separate parts of a system to the general whole. The distribution is presented in percentages; therefore, the unit of measurement must be the same. Each subdivided segment corresponds to a different category, while the entire chart corresponds to the total.
Column Chart compares relationships between different data entries. It requires an X and Y input to display a two-dimensional graph system. A higher column indicates a higher value.
It's Time to Upgrade to a Complete Barcode Inventory System